WHAT I'M UP TO
Please join me for a workshop in revising at Murphy Writing Seminars' winter getaway January 13-16, 2017, at the Sea View Hotel near Atlantic City, NJ. This year our special guests are going to be Stephen Dunn & Sharon Olds. My workshop, of a max of 10, will be working on revising drafts in order to make them appeal to editors and/or agents. We will workshop, we will write, we will dance, we will socialize--and if revision does not appeal to you, choose from other workshops in fiction, nonfiction, memoir, song writing and/or poetry. Early registration discounts and scholarships are available. Learn more at www.stockton.edu/wintergetaway
I have just returned from Murphy Writing Seminars' annual getaway abroad--this year in Dundee, Scotland. There I help conduct feedback sessions while myself participating in Peter Murphy's seminars and writing.

Join us next summer in a warm place--to be announced--very likely L'Avenc in Catalunya, Spain! We were there 2 years ago, and it was fantastic! For info see www.murphywriting.com.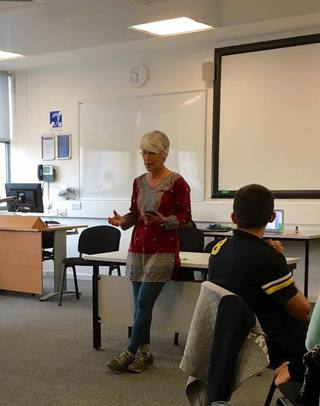 ENG 303 Creative Writing Poetry taught online in the summer of 2007 resulted in an anthology of student poems I compiled from students' portfolios. Please click on the link to the left to see a copy.
I also take private students on a variety of projects from poetry to short fiction to long fiction!