Winter Getaway
Check this out!
I will be teaching the add-on Prose Roundtable Workshop on Friday, January 12th from 3:30 to 6:30. It's only $95.00, added onto the Getaway, and you will get in-depth feedback, both in discussion of your previously written draft and in writing to help you revise a piece toward publication. You can participate in this workshop and also take a Saturday-Monday workshop in the genre of your choice. In addition I will be offering one-on-one tutorials on Saturday the 13th and Sunday the 14th afternoon, also as an add-on to the Getaway.
The Winter Getaway really is a welcoming, encouraging generative and feedback-oriented assortment of workshops that will leave you with drafts to work on as the winter keeps us all indoors, most of the time, anyway, creating those conditions under which it is a good time to write! Consider joining us.
"The Brothers K" in Waxing and Waning issue 11.
This rather dark story, based on the tavern scene in The Brothers Karamazov when Ivan tells Alyosha the legend of the Grand Inquisitor, is appropriately printed white on black. This is one of a series of twelve stories I'm working on, all of them responding, in one way or others, to literary classics I have loved.
First time I read Ivan's "Legend of the Grand Inquisitor," in my last year at Indiana University, I didn't get it. Subsequent readings, one of them in a course at UC Berkeley, lectured by Czeslaw Milosz, let it sink in, and I have even taught this novel at Rider University in a Dostoevsky course for the foreign languages department. I love the moment when Ivan leans out the window and invites his brother, Alyosha, in a novitiate's caftan, to come into the tavern to talk. So I thought about Kaminsky's in Cherry Hill, my hometown and imagined a "talk" there.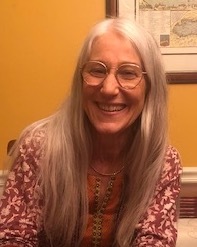 I look like such an adult in this photo. It came down from the "Wall of Fame" at Rider some years ago. This website is woefully outdated. I apologize. As for the picture, I am grateful to one of my Fulbright students in Hyderabad who told me the picture reminded him of Meryl Streep in The Devil Wore Prada. Hah! Sometimes you have to go abroad in order to get back home.